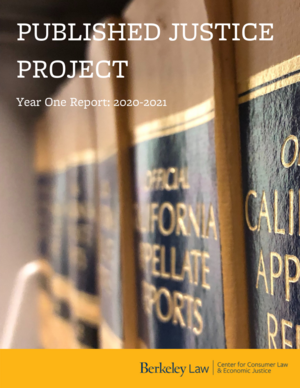 Led by staff attorney Eliza Duggan and supported by Justice Catalyst, the Center — joined by a raft of notable nonprofit organizations — is working to guide the development of consumer law in California through its Published Justice Project. Most of the opinions issued by the California Courts of Appeal are "unpublished," meaning that they do not have precedential effect. However, the parties or interested observers can request that the court order publication of any unpublished opinion. For the past year, the Center has been combing through thousands of opinions to find decisions worthy of becoming part of the official record. Of the eleven publication requests that the Center submitted this year, the courts granted eight. 
That's over 150 pages of new, precedential law.


Have a look at the Project's Year One Report 
HERE
.