The Center turned nine months old in January. And, like any self-respecting nine-month-old, we are on the move....
---
Launching, with a Splash


The big news since our last newsletter: The Center has officially launched! On November 14, Dean Chemerinsky, Elizabeth Cabraser '78, and a star-studded cast of speakers welcomed an equally luminary group of practitioners, students, alums, professors, and friends to a party celebrating the birth of the Center, the work that Berkeley Law has done for consumer rights and economic justice over the past decade, and the promise the future holds for the Center's and the Law School's continued leadership in the field. Check out the photos below as well as as on our Flickr page.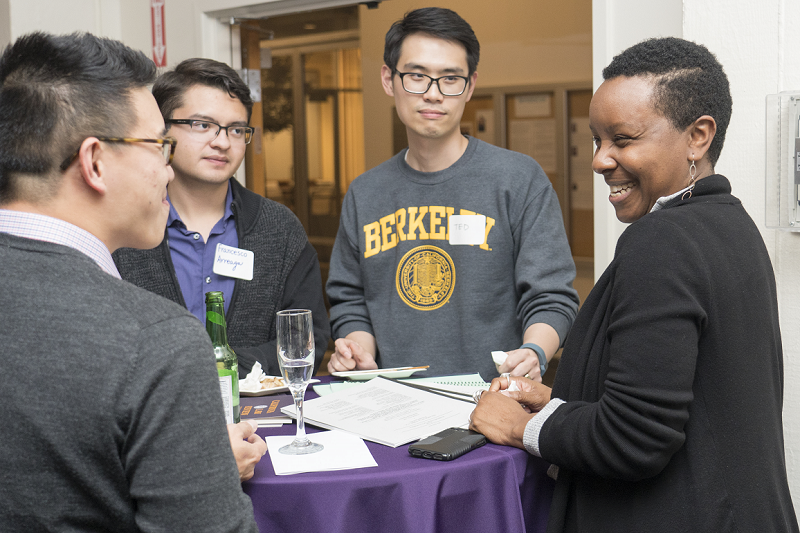 Samson Lim '21, Francesco Arreaga '21, Ted Lee '21, Prof. Abbye Atkinson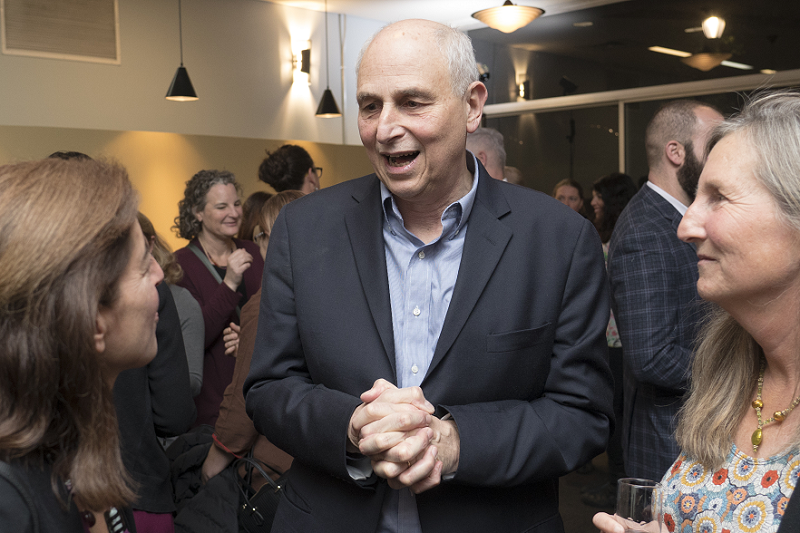 Prof. Claudia Polsky '96, David Vladeck, Prof. Lucinda Sikes
Suzanne Martindale '10, Ted Mermin '96, Luke Diamond '16, Brady Williams '19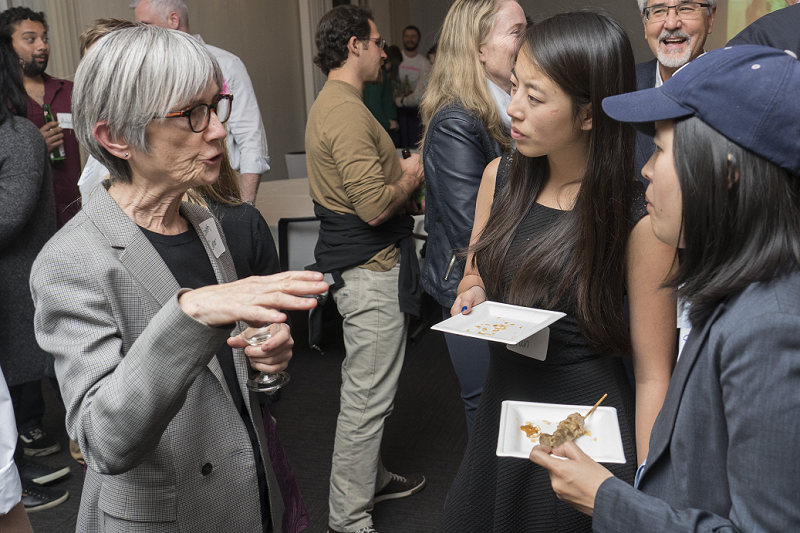 Elizabeth Cabraser '78, Cindy Pan '19, Sophia TonNu '19


In addition to Dean Chemerinsky and Elizabeth Cabraser, speakers included Professor Abbye Atkinson, current Consumer Advocacy & Protection Society chairs Brady Williams '19 and Josh Le '19, former CAPS chair Luke Diamond '16, Seema Patel '06 of the East Bay Community Law Center, Center Advisory Board Chair Suzanne Martindale '10, former Director of the FTC Bureau of Consumer Protection David Vladeck, and Center Executive Director Ted Mermin '96.
Thanks to all those who attended the Launch Party or who sent best wishes from afar. It is good to be (officially) under way!
Spreading the Word

The Center, in partnership with the National Association of Consumer Advocates, has inaugurated a campaign to build consumer law programs in other law schools. By helping to start or expand student groups focused on consumer rights and economic justice, the Consumer Law Advocates, Students, & Scholars (CLASS) project aims to foster consumer law courses, speakers, mentorship, clinics and other activities in law schools across the country. Berkeley Law's own Consumer Advocacy and Protection Society (CAPS) is serving as both model and mentor.
Teaching New Courses

And speaking of consumer law courses.... Consumer Litigation: The Course of a Case was a great hit this fall, earning raves from students. Huge thanks and kudos to team-instructors Kristen Law Sagafi of Tycko & Zavareei (private action) and Lisa Rosenthal of the CFPB (public action), who took students thorough the process of envisioning, planning and executing an affirmative consumer case step by step. At least one other law school has promised to steal the idea already.
The spring semester has kicked off with a curricular bang as well. Professor Patricia McCoy '83 of Boston College, the inaugural leader of the CFPB's mortgage team, just finished a week teaching Consumer Protection in Insurance as Distinguished Visiting Professor of Insurance Law. Pat's presence at the law school was an inspiration to both students and faculty. Meanwhile, Center advisory board chair Suzanne Martindale '10 is teaching the law school's first course in Student Loan Law, Monami Chakrabarti '08 is under way with E-Commerce & Product Counseling: A Consumer Protection Perspective, and a certain Center director is gearing up for the third year of the Comparative Consumer Law seminar for LL.M. students.
Reaching Out, Internationally

Nattaporn Nakornin is a judge of the Provincial Court of Thailand. She is also an LL.M. candidate at Berkeley Law (Class of 2019), and she is actively involved with the Center for Consumer Law & Economic Justice.
In fact, the Center is the reason that "Judge Nat" (as she is sometimes known) came to Berkeley Law in the first place. When she was choosing which LL.M. program in the U.S. to attend, it was the announcement of the Center's launch that made her decide on Berkeley.
Judge Nat has already taken Consumer Protection Law, is currently enrolled in Student Loan Law, and has helped organize the Comparative Consumer Law Colloquium that starts in late February. In the fall, she conducted a research project comparing small claims courts in the U.S. and Thailand. Her research will continue this spring as she wrestles with issues like why U.S. jurisdictions permit the compounding of interest on consumer debt. (Good question.)
The judge hopes to bring her research to bear back in Thailand, where consumer cases compose the plurality of civil cases in her court. Most of those are debt collection cases against consumers; too often, those consumers do not appear to contest the lawsuit, and many consumers are unaware of legal protections that may help them. (These are, she has found, problems the U.S. shares.)
Judge Nat believes she has learned a great deal in her time at Berkeley. "I especially appreciate discussion with professors and with classmates as well as lectures in class. And Consumer Law Tips of the Week and guest speakers are particularly helpful because they provide practical advice." She is very glad she decided to come to Berkeley. (So are we, Judge Nat. So are we.)
Counseling and Convening

The Center's work convening groups of nonprofit, legal services, and government consumer protection organizations in San Diego, Los Angeles, and the Bay Area continues. The Center has added a special project working with the Los Angeles County Counsel's office (pictured below) to help set up and train their new affirmative litigation team.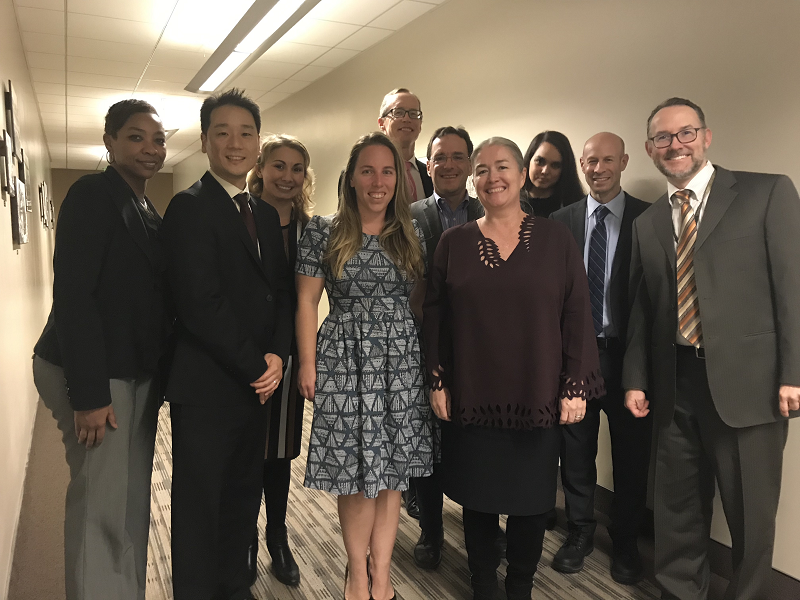 Friending the Courts

The Ninth Circuit Court of Appeals, sitting en banc, recently handed down its much anticipated decision in American Beverage Association v. San Francisco, determining the fate of San Francisco's current warnings requirement on soda billboards, and also potentially shaping the law of commercial speech and mandatory disclosures in the Circuit for years to come. You can listen here to a Daily Journal podcast on the decision, featuring (at about the midpoint) Center personnel – who with the assistance of ace Berkeley Law student Sophia TonNu '19 filed an amicus brief in the case on behalf of the American Heart Association and a dozen other public health organizations.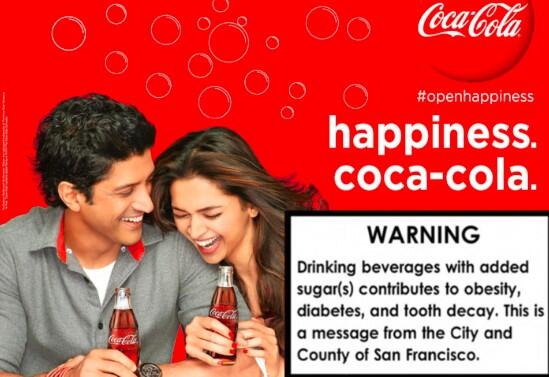 Last week the Ninth Circuit also held oral argument in Manriquez v. DeVos, the case – in which the Center has filed several amicus briefs – challenging the U.S. Department of Education's decision to no longer discharge the federal student loans of students defrauded by the failed Corinthian Colleges chain.
Coming Up Next

Center personnel are eagerly planning the inaugural Consumer Law Scholars Conference, the first gathering of its kind, which will be held at the law school February 21-22. Watch this space for details and pictures from the conference – and other news at our one-year mark!